goDough Mobile Banking
Access Your Account Anytime, Anywhere
goDough is a browser-based mobile banking solution that provides anytime, anywhere access to your accounts.
goDough allows you to use a cell phone, PDA, or other mobile device to securely perform routine banking transactions such as viewing balances, initiating transactions, or pay bills with iPay. goDough can also provide you with account alerts via email and SMS text messages.
Key Features of Web Mobile goDough:
Free to NetTeller customers

View account balances

View transactions

Transfer funds between accounts

Make a Mobile Deposit

View Statements, check images

Pay bills with iPay

Locate the nearest FNBSI office or ATM

View alerts
To enroll simply log onto your NetTeller account then select the Options tab >> Mobile Settings >> Web Mobile Settings to enter your mobile device information.
Mobile Deposit
Mobile Deposit is a free service and gives you the flexibility to deposit checks 24/7 from anywhere.  This feature of Mobile Banking is accessed through our goDough app.
Limits:
Maximum Five (5) Qualified Items per day, at our discretion
$1,000 limit per day, at our discretion
Maximum Twenty (20) Qualified Items per statement cycle, at our discretion
$2,000 limit per statement cycle, at our discretion
Deposit Guidelines
Endorse the check with your signature and "For Mobile Deposit Only."
Checks must be made out to the account holder.
Be sure to include all four corners of each check.  The image needs to be clear.
Make sure the dollar amount entered when making the deposit matches the written amount on the check.
Do not deposit the following: foreign checks, savings bonds, traveler's checks, money orders, checks more than 6 months old or checks dated in the future.
Keep your checks for 14 days.  After 14 days, verify that the correct amount posted to your account and then properly destroy the check.
Funds Availability
If your deposit is made on a business day before 5 p.m. EST, then the deposit will be released to your account that night.  Deposits made after 5 p.m. EST, on a weekend or Federal Holiday, will not be released until the night of the following business day.  See our
Funds Availability PDF Policy (Regulation CC)
for more information.
For assistance or questions, please contact Customer Service at (877) 372-9029.
Key Features of Text Mobile goDough:
With Text Mobile goDough you can quickly retrieve your account balance, transfer funds between accounts or view limited transaction history right from your mobile phone using text messages.
 How it Works:
Login to your NetTeller account and select the Options tab >> Mobile Settings >> Text Mobile Settings and enter your mobile information.

Send a text message to request information about your accounts or perform a transaction.

Receive a text message response with the information you requested or confirmation of your transaction.
Things to Remember:
 Add to your Contact List, 89549 for easy reference.  Then text  89549 with any one of the following commands.
| Command | Action |
| --- | --- |
| HELP | Returns command references |
| BAL | Returns balance for all enrolled accounts |
| BAL <account nickname> | Returns balance for specific accounts |
| HIST | Returns last four transactions for all enrolled accounts |
| HIST <account nickname> | Returns last four transactions for specific account |
| STOP | Disables text banking service |
---
goDough is compatible with any Web-enabled mobile phone that supports WAP browsers, regardless of make, model, or mobile service provider. Download the Android App at the Google Play Store or the Apple App at the iTunes Store.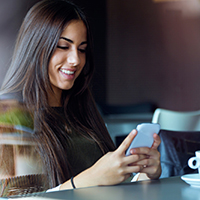 MyCard Rules
We're offering a free app that enables our customers to set personalized card controls, and more!