COVID-19 Information
Dear Valued Customer,
At First National Bank of St. Ignace (FNBSI), we understand that we are an essential service, and we are committed to remaining open through these challenging times. We also take the safety and well-being of our customers and staff very seriously.
Like most of you, we have been actively following the news surrounding the spread of Coronavirus (COVID-19). As of March 20, 2020, all bank lobbies are temporarily closed to the public. All branch offices will continue to offer ATM services, as well as night depository services and drive-up banking, where available.
The bank remains fully operational and ready to assist with customers' needs. If you need to meet with a member of our staff, or need access to your safe deposit box, please contact your local branch and make an appointment.
During this time, we also want to make sure you know there are still lots of ways to conduct your banking without coming into one of our branches.
Online and mobile banking: You can check balances, transfer funds between FNBSI accounts, or make loan payments using online banking or our mobile banking app. You can also pay bills with our iPay feature.  
Mobile Deposit: Deposit checks using just our mobile banking app and a smart phone.  
Telephone Banking: Our telephone banking line is available 24 hours day for you to check account balances, verify transactions and transfer funds between accounts. Just dial 888-643-6800.  
Drive Up Service: All but one of our branches have drive-up service available during regular business hours. Make deposits, cash checks or make loan payments without leaving your vehicle.  
ATM and Night Drop: Each branch is also equipped with an ATM and night drop drawer. Get cash any time of day or use our night drop to make deposits after hours.
Please contact your local branch if you need help with these or any of our services.
In addition to your physical well-being, your financial security remains a priority for us as well. Unfortunately, in any time of crisis, certain individuals will try to take advantage. Just remember, neither FNBSI nor any legitimate financial service business should ask you to provide confidential information such as passwords or PINs.  Check the Federal Trade Commission's website for more information on detecting and avoiding scams.
If you have other questions about the recent announcements related to the Coronavirus, we encourage you to visit the Centers of Disease Control and Prevention (CDC) website for latest updates.
Please visit the following links for additional information regarding financial decisions during this time.
Protect yourself financially from the impact of the coronavirus
The CFPB continues to help consumers make informed financial decisions with up-to-date information and resources
Protecting your credit during the coronavirus pandemic
Coronavirus and dealing with debt: Tips to help ease the impact
Tips for financial caregivers during the coronavirus pandemic
James North, President & CEO
First National Bank of St. Ignace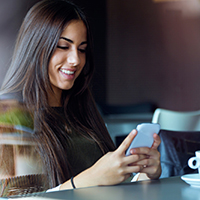 goDough
goDough
 is a browser-based mobile banking solution that provides anytime, anywhere access to your accounts.