CARES Act Small Business
Workers and businesses across Michigan have felt the economic impact of the various COVID-19 restrictions implemented to slow the spread of the Coronavirus.  On March 27, 2020, the House passed the CARES Act and President Trump signed it into law immediately after. Since then, federal, state, and local leaders have sought  to help our communities through the Coronavirus crisis.
The "Paycheck Protection Program" provides cash-flow assistance through 100 percent federally guaranteed loans to small employers who maintain their payroll during this emergency. Please note – If the employer maintains payroll, the portion of the loans used for covered payroll costs, interest on mortgage obligations, rent, and utilities can be forgiven. This provision will help workers remain employed, and allow affected small businesses and our economy to recover quickly from this crisis.  The program has undergone many changes during enactment, and this page is designed to be a source of general information. Please visit www.sba.gov for full details.



2021 SBA PPP Loans
The U.S. Small Business Administration (SBA), in consultation with the Treasury Department, announced that the Paycheck Protection Program (PPP) will re-open the week of January 11, 2021 for new borrowers and certain existing PPP borrowers. Updated PPP guidance outlining Program changes to enhance its effectiveness and accessibility was released on January 6 in accordance with the Economic Aid to Hard-Hit Small Businesses, Non-Profits, and Venues Act.
Key PPP updates include:
PPP borrowers can set their PPP loan's covered period to be any length between 8 and 24 weeks to best meet their business needs;
PPP loans will cover additional expenses, including operations expenditures, property damage costs, supplier costs, and worker protection expenditures;
The Program's eligibility is expanded to include 501(c)(6)s, housing cooperatives, direct marketing organizations, among other types of organizations;
The PPP provides greater flexibility for seasonal employees;
Certain existing PPP borrowers can request to modify their First Draw PPP Loan amount; and
Certain existing PPP borrowers are now eligible to apply for a Second Draw PPP Loan. 
A borrower is generally eligible for a Second Draw PPP Loan if the borrower:
Previously received a First Draw PPP Loan and will or has used the full amount only for authorized uses;
Has no more than 300 employees; and
Can demonstrate at least a 25% reduction in gross receipts between comparable quarters in 2019 and 2020.
Some additional resources can be found below:
CARES Summary of Health, Tax, Unemployment, Small Business, and Distressed Industries Provisions
CARES Act Small Business Frequently Asked Questions (FAQ)
CARES Act - Detailed Funding Summary
CARES Act - Appropriations Highlights

CARES Act Education and Labor Provisions
CARES Act Transportation and Infrastructure Committee Related Provisions

CARES Act - Jobs & Economic Importance of U.S. Infrastructure Network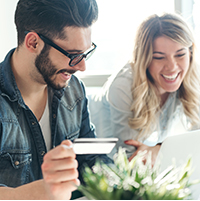 ATM/Debit Cards
Safe and convenient, with multiple card program choices.