CARES Act Small Business
Workers and businesses across Michigan have felt the economic impact of the Governors' "stay at home" order, implemented to slow the spread of the Coronavirus.  On March 27, 2020, the House passed the CARES Act and President Trump signed it into law immediately after. The next few weeks of action are critical as federal, state, and local leaders work together to help our communities through the Coronavirus crisis.
Workers and businesses across Michigan have felt the economic impact of the Governors' "stay at home" order, implemented to slow the spread of the Coronavirus, and the CARES Act aims to help impacted workers through these trying times. 
The "Paycheck Protection Program" provides eight weeks of cash-flow assistance through 100 percent federally guaranteed loans to small employers who maintain their payroll during this emergency. Please note – If the employer maintains payroll, the portion of the loans used for covered payroll costs, interest on mortgage obligations, rent, and utilities will be forgiven. This provision will help workers remain employed, and allow affected small businesses and our economy to recover quickly from this crisis. This proposal would be retroactive to February 15, 2020, to help bring workers who may have already been laid off back onto payrolls.  The program has undergone many changes during enactment, and this page is designed to be a source of general information. Please visit www.sba.gov for full details.


Here are some resources that may be helpful to you:
The "Small Business Owner's Guide to the CARES Act" can be found HERE.

The Department of Labor has compiled the Families First Coronavirus Response Act: Questions and Answers Sheet that can be found HERE.  

Fact Sheet for Employees and Fact Sheet for Employers are also available. 
If your small business is struggling due to the recent Coronavirus epidemic:
Your business may be eligible for a new Paycheck Protection Loan.
This low interest rate loan is 100% guaranteed by the SBA.
Who is eligible? 
Businesses and 501(c)(3)s with less than 500 employees.
Physician practices are eligible, no matter how they are structured.
Where can you get this loan?  
FNBSI has partnered with Lendio, an SBA preferred lender, to offer PPP loans through an on-line platform system. To date, Lendio has processed over 70,000 PPP loans nationwide.
As of April 15, the original $349 billion appropriation of SBA funding was exhausted. On April 22, an additional $310 billion was being planned for a second round of PPP loans. Final passage is expected on April 23.
Customers may apply for PPP loans at the following link: https://www.lendio.com/ppp/first-national-bank-of-st-ignace/. These loan applications will be processed by Lendio and offered to various lenders for closing and funding. Please follow the instructions carefully during the submission process in order to avoid unnecessary delays, as the program funds are expected to be used up quickly.
For those businesses who previously applied for a PPP loan, please read a special message HERE.
What can you use the loan amount for? 

Payroll costs - Group health care benefits
Employee salaries - Interest on any mortgage obligation
Rent
Utilities
And any other debt obligations occurred before Feb. 15, 2020.
How much can you borrow? 
The maximum amount is the lesser of $10 million or 2.5 times the average monthly payroll based on last year's payroll.
What if you can't pay it back? 

First, all payments on principal, interest, and fees will be automatically deferred for six months.
Second, for businesses that retain their staff up until June 30, 2020, this loan will be forgiven.
Can the entire loan be forgiven? 
No, only the portion of the loan used to cover payroll costs, mortgage interest, rent, and utilities can be forgiven.
In addition, only 8 weeks can be forgiven.
Some additional resources can be found below:
CARES Summary of Health, Tax, Unemployment, Small Business, and Distressed Industries Provisions

CARES Act Small Business Frequently Asked Questions (FAQ)

CARES Act Paycheck Protection Program and Loan Forgiveness

CARES Act - Detailed Funding Summary
CARES Act - Appropriations Highlights

CARES Act Education and Labor Provisions
CARES Act Transportation and Infrastructure Committee Related Provisions

CARES Act - Jobs & Economic Importance of U.S. Infrastructure Network

CARES Frequently Asked Transportation Questions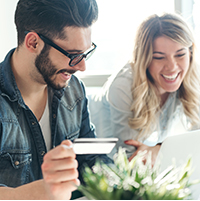 ATM/Debit Cards
Safe and convenient, with multiple card program choices.